Exhibition participants enquiring about Tacbecon's marine and offshore industry lubricant solutions.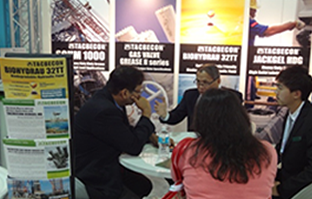 OTC 2012, held from 30th April to 3rd May 2012 at Reliant Center, Houston, Texas, USA is a world-wide anticipated exhibition for the development of offshore resources. Tacbecon, working together with Tecsia Lubricants, was able to feature and showcase products relevant to the Marine and Offshore industry such as Tacbecon's Syn Gear 900 series, JackGel HDG, SG 1000S, SWR 53, BIO HYDRAU Series, SG 200S, SGH 200S, SOG 800/2.

About OTC 2012
The Offshore Technology Conference (OTC), founded in 1969, is the world's foremost event for the development of offshore resources in the fields of drilling, exploration, production, and environmental protection.
For more information on the tradeshow, click here.